Bring it Home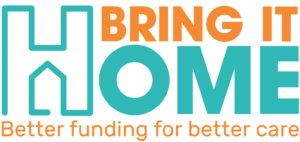 is a coalition of community-based mental health housing providers, mental health advocates, faith leaders, and consumers and their families, urging New York State to adequately fund community-based housing programs for individuals with psychiatric disabilities. Full recovery and community reintegration depends on stable housing opportunities. Through education and advocacy, Bring it Home is working to bring better funding for better care to New York.
Our Mission
Living in specialized community-based housing serves both the taxpayer and those with serious psychiatric disabilities well. But these housing programs are facing unprecedented fiscal challenges. BRING IT HOME's mission is to raise awareness, get supporters actively involved, and make sure that the 2018 – 2019 New York State budget includes not only adequate funding, but funding allocated towards the right efforts.
Sign-On to Support Bring It Home!
Share Your Story
There are so many positive stories from within the mental health housing system and we'd love to hear yours! 
If you have ever lived, worked, or have had a close family member in a mental health housing program, we want to hear about your experiences and how housing played a role in recovery.
Click here to Share Your Story!
If you would like to submit a video or audio file of your story, please contact Justin Hladik, social media coordinator, at justin@aclnys.org.